Dovpo x TVC Topside Dual Carbon 200W Squonk Box Mod
Dovpo and The Vapor Chronicles introduce the Topside Dual Carbon designed with a carbon fiber chassis as well as an integrated YiHi powered chip. This new TOPSIDE DUAL CARBON mimics the design of the original TOPSIDE DUAL squonk mod, but offers a stronger and appealing carbon fiber casing. Featuring a 200W capable proprietary YiHi chipset, dual 18650 battery design, and a top-filling 10ml silicone bottle; the TOPSIDE DUAL CARBON continues its legacy as the most versatile squonk mod to date.
The Dovpo X TVC TOPSIDE DUAL CARBON features a surprisingly compact and ergonomic design. The aluminum alloy and carbon fiber body houses the signature 10ml TOPSIDE squonk E-liquid bottle and two 18650 batteries (sold seperately), accessible via a slide and flip bottom battery door. Gold plated contacts and a solid spring loaded battery door contact, enable this device to be   extremely dependable. The 10ml silicone bottle can be removed for easy cleaning, and cross compatible with the entire TOPSIDE line up. The user can fill the bottle by simply unscrewing the spring loaded, dual plug top cap; revealing two large fill ports. Adjacent to the top cap is a leak resistant stainless steel 510 base, with a gold plated bottom feeding contact, that can accommodate atomizers up to 25mm in diameter. Both the top plate and bottom base plate sections of the mod are constructed of zinc alloy for strength and durability.
The TOPSIDE DUAL CARBON features an intuitive YiHi chipset featuring a wattage range of 5W to 200W, a full temperature control suite, a 5 line 0.96" TFT color display, integrated protections, a 2A micro USB charging and data port, and four button control interface. With an atomizer resistance range of 0.08 ohm to 3.5 ohm, the TOPSIDE DUAL CARBON is ideal for both cloud chasing and flavor chasing. Unlike the original TOPSIDE, this model is fully capable of temperature control that can support the use of nickel, titanium, or stainless steel wire; and has a TCR mode for advanced users.
Check out The Vapor Chronicles Video Review HERE!
Mod
Product Specifications
5 to 200W Output Range

0.1 to 3.5 ohm Resistance Range
0.8 to 8.0V Output Range

Temperature Control Suite

Software Upgrade Required
Ni200 Nickel Support
Titanium Support
SS316 Support
212 to 572 degree Fahrenheit Range
100 to 300 degree Celsius Range
0.05 to 1.5 ohm TC Resistance Range

Output Modes

Power Mode Output
Joule Mode Output
Temperature Control Output

Software Upgrade Required

.96 TFT inch Screen

Vertical Arrangement
Output Mode
Output Wattage
Output Voltage
Atomizer Resistance
Output Current
Dual Battery Life Indicator

10ml Top Filled Squonk Bottle

Threaded Top Cap
Squonk Bottle Built Into Plastic Casing

Three Button Control Face


Oversized Firing Button
Two Adjustment Buttons

Sliding Battery Door

Accepts Two High Amperage 18650 Batteries

Batteries Sold Separately

USB Port

Gold Plated 510 Threading and Firing Pin

Spring Loaded Gold Plated Center Pin
Gold Plated Contact Points
Leak Resistant 510 Base

Device Safety Features

Overtime Protection/Atomizer Checking/Low Power/Short Atomizer/High or Low Resistance Warning/Overheat Protection
Product Dimensions
54.0mm by 42.0mm by 88.5mm
Product Includes
One Dovpo Topside Dual Carbon Mod
One Dovpo Extra Bottle Kit
One Accessories Bag
One Carbon Fiber Plate
One Micro USB Cable
User Manual and Warranty Card
Check out the Dovpo Topside Dual Carbon infographic to help you better understand how the product works!
All orders have a processing time of 24-72 hours
Please refer to our Domestic Shipping and International Shipping pages for more detailed information.
CALIFORNIA ORDERS: Per California's STAKE Act, we are required to contact customers that place orders to be shipped to California. Customer's will be contacted by telephone with our automated telephone service to confirm your purchase. These calls will occur after 5pm PST.
State Regulations: Some states have specific laws regarding the sale and shipments of our products. If you do not see your state in the drop down menu when placing your order, that means we have currently stopped shipping to your state pending review of your state's regulation.
We can not accept orders to be shipped into Utah per Utah Code §59-14-509.
We have a 45 day return policy.
You may not return consumable items. This includes, but is not limited to: liquid products, coils/pods, cartridges, and batteries. Any item deemed consumable is non refundable.
Please refer to our Refund Policy page for more detailed information.
Advanced User Item. Use at Your Own Risk!
Please Note: Batteries must be matched in brand, model and battery state at all times. Discharge and recharge batteries within the same grouping of two. Failure to do so may result in injury. Never use damaged or improperly wrapped batteries with this device.
Warning: Never use a short or flat 510 connection on any hybrid or hybrid style device. If unsure whether this pertains to your particular set-up, DO NOT assemble and use. Always use proper precautions and handling.
CBD DISCLAIMER: VaporDNA™ shall not be held liable for the medical claims made by customer testimonials. The statements made regarding these products have not been evaluated by the Food and Drug Administration. The efficacy of these products and the testimonials made have not been confirmed by FDA- approved research. These products are not intended to diagnose, treat, cure or prevent any disease. All information presented here is not meant as a substitute for or alternative to information from health care practitioners. Please consult your healthcare professional about potential interactions or other possible complications before using any product. The Federal Food, Drug, and Cosmetic Act requires this notice.
All CBD and Hemp products are consumables and no returns will be accepted. Shipping to addresses in the U.S.A. only.
NOTE: Descriptions, specifications, and claims are based on manufacturer information. Information listed and provided are to be used at the sole discretion of the consumer and are not representative of analysis, testing, and verification by VaporDNA and any and all of VaporDNA's parent and subsidiary companies. There is an inherent risk with the use of any and all rechargeable batteries in any circumstance. VaporDNA® and any and all of VaporDNA®'s parent and subsidiary companies are not responsible for damage if there is any modification of the batteries/chargers in any form or shape (including pack making). VaporDNA® and any and all of VaporDNA®'s parent and subsidiary companies are not responsible for any damage caused by the misuse and/or mishandling of Li-ion (Lithium-ion), LiPo (Lithium-ion Polymer) and any rechargeable batteries and chargers.

Use special caution when working with Li-ion (Lithium-ion), LiPo (Lithium-ion Polymer) and any rechargeable cells, as they are very sensitive to charging characteristics and may explode or burn if mishandled. Make sure the user has enough knowledge of Li-Ion (Lithium-ion), LiPo (Lithium-ion Polymer) and any rechargeable cells in charging, discharging, assembly and storage before use. Always charge in/on a fire-proof surface. Never leave charging batteries unattended. Do not use any rechargeable battery as well as any battery charger if any visible damage is present, as well as if the cell or charger has been stressed through mishandling, accidental or otherwise, even if damage may not be visible. Always store and transport rechargeable cells in a safe, non-conductive container in a controlled environment. Dispose of all battery cells and chargers in accordance to local laws and mandates.

VaporDNA™ will not be held responsible or liable for any injury, damage, or defect, permanent or temporary that may be caused by the improper use of a Li-ion (Lithium-ion), LiPo (Lithium-ion Polymer) and any rechargeable battery/batteries. Please have a basic understanding of the batteries you are using and how to care for them properly.

All pictures are based on practicality, copyright reserved.
Customer Reviews
Write a Review
Ask a Question
Filter Reviews:
Topside
shipping
profile rda
chip
yihi
device
mods
quality
VaporDNA
squonk
12/16/2019
Orlando F.
United States
TC
11/28/2019
Thomas C.
United States
Great product.
Bought the carbon dual topside with overnight shipping was shipped within 24 hours. Thanks vapordna. Owned the original dual topside but it stopped working after 8 months of use. This feels like a totally different product the quality in person is insanely better than the pictures. The battery door is solid and doesnt slide off, i use the mod for tc mode and the chip performs great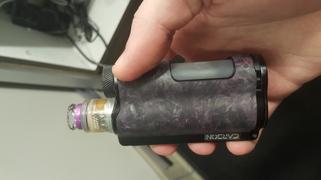 11/28/2019
JohnG
United States
Great Squonk Mod! First Impression Dovpo Carbon
First off as usual VAPORDNA does a great job servicing their customers. They send nice items with their logo a polishing cloth. It's so hard now to find a company that has finesse. I believe they are the only company to offer insurance on their mods not to say your going to need it but it's better to have it and not need it then to need and not have it. Now on to my first impression of the Dovpo Carbon this is only a one day review and my first impression it is a very impressive mod. Feels very solid in the hand this mod is very sharp looking. Now for the performance it does a very good job at fast ramps especially using a mesh RDA such as The Mr. Right Profile. I have been using it for one day on a mesh coil at .14 ohms at 70 watts it has lasted all day yesterday and early this morning. I exclusively get my mods from VAPORDNA because they back their mods with a 45 day return for defects with the mod says a whole lot about the integrity of their company. Remember that is not if you drop it. For accidents I recommend you get the 1 or 2 year accidental insurance. When ordering the Dovpo Carbon I received it by FedEx 2 day shipping so unlike other companies you have to wait 4 or 5 days and that's not including the time they take to put the order together. When you order a certain $$ amount with VAPORDNA they send it fast they also have to put your order together which can take 24 to 72 hours. I have been vaping since late 2006 I have used the very first vape pens it takes a lot to impress me. VAPORDNA keep up the great work with your customers it's the little things you do that keep us loyal. Another benefit with VAPORDNA you build points that can be used later on for other items.
10/29/2019
Arvin
United States
Fantastic Squonk!
I've been squonking for a while. Started off with the Geekvape GBOX. Had leaking issues and the tank was so hard to press. Moved onto an Ohmboy Rage. Great mod, but tank still had minor leaking issues and it would leak at the 510 connector. Nothing major, but still an annoyance since devices leak at the most inopportune time. I purchased a carbon magenta Topside and although it was expensive, I couldn't resist the carbon body, it looks to good. The device squonks smooth. The bottle has had zero leaks in the week I have been using it. I paired this with a Profile RDA and there are no leaks at the 510 connector thus far. Device is compact even with the RDA on it and the battery life lasts all day. Best part of this device though is the top filling tank. It is so easy to fill my mod now since there's zero need to remove the tank from the device. Unscrew, fill, and you're done. FIt and finish is top notch and I have not experienced any of the issues that other people have been complaining about.