GeekVape Aegis Boost Pod System
GeekVape presents the Aegis Boost, a newly designed pod system for those that desire a tough pod system. The GeekVape Aegis Boost pod system features a USB charging port, replacement pods designed for salt nicotine, a large 1500mAh battery capacity, and an IP67 rating.
The GeekVape Aegis Boost remains fairly compact compared to the original Aegis Legend with its overall measurements being 106.8mm by 39.2mm by 27.7mm. A simple and minimalistic design covers this device as there are two buttons found on this device which are the on and off switch, which doubles as the firing button and the adjustment button. Located below the firing button is an integrated LED which displays battery life, ohm level, wattage output, hit count and device safety notifications. Draining this devices battery will be a difficult matter due to the battery capacity being a whopping 1500mAh integrated battery. Another great upgrade to this device is the utilization of micro USB located on the side of the device.
Moving forward, the GeekVape Aegis Boost Replacement pod securely fits atop the device and protrudes enough for a comfortable draw. This system features a whistle tip styled drip tip and is approximately 8mm wide for a comfortable vaping experience. Juice can be filled through a top mounted silicone tab located on the top of the pod with a maximum juice capacity of 3.7ml. The replacement pods utilize two different coil styles. One of which is the 0.4 ohm Kanthal Mesh coil which is best used at 25 to 35W. The other variation is the 0.6 ohm Kanthal Mesh coil which is designed to be vaped at 15 to 25W. Each pod is securely connected to the device via a click in connection. A Geekvape Aegis Boost RBA Pod is now available for a custom vaping experience!
Check out RipTrippers Video Review HERE!
Product Specifications
All-in-One Pod System


Single Firing Button
0.08 Second Firing Speed
5 to 40W Output
1.0V to 6.0V Voltage Output

Zinc Alloy, Leather and Silicone Construction

IP67 Rated - Corrosion, Shock and Water Resistant

Aegis Boost Replacement Pod 

Re-Fillable
3.7ml E-Liquid Capacity
Proprietary Drip Tip
Boost Coil 0.6 ohm

0.6 ohm Resistance
Single Mesh Coil

Boost Coil 0.4 ohm

0.4 ohm Resistance
Single Mesh Coil

Silicone Stopper
Proprietary Connection

Plug and Play Connection

Gold Plated Contacts
Pod Acts as Drip Tip

1500 mAh Built in Battery


Rechargeable
Micro USB Charging

OLED Display

0.42" Display
Current Wattage Output
Ohm Level
Hit Counter
Battery Level

106.8mm by 39.2mm by 27.7mm
Product Includes
One Aegis Boost Device
One Boost Pod
One Boost 0.4 ohm Coil (Pre-Installed)
One Boost 0.6 ohm Coil
One Spare Drip Tip
One User Manual
One USB Charging Cable
Check out the GeekVape Aegis Boost infographic to help you better understand how it works!
All orders have a processing time of 24-72 hours
Please refer to our Domestic Shipping and International Shipping pages for more detailed information.
CALIFORNIA ORDERS: Per California's STAKE Act, we are required to contact customers that place orders to be shipped to California. Customer's will be contacted by telephone with our automated telephone service to confirm your purchase. These calls will occur after 5pm PST.
State Regulations: Some states have specific laws regarding the sale and shipments of our products. If you do not see your state in the drop down menu when placing your order, that means we have currently stopped shipping to your state pending review of your state's regulation.
We can not accept orders to be shipped into Utah per Utah Code §59-14-509.
We have a 45 day return policy.
You may not return consumable items. This includes, but is not limited to: liquid products, coils/pods, cartridges, and batteries. Any item deemed consumable is non refundable.
Please refer to our Refund Policy page for more detailed information.
Advanced User Item. Use at Your Own Risk!
Please Note: Batteries must be matched in brand, model and battery state at all times. Discharge and recharge batteries within the same grouping of two. Failure to do so may result in injury. Never use damaged or improperly wrapped batteries with this device.
Warning: Never use a short or flat 510 connection on any hybrid or hybrid style device. If unsure whether this pertains to your particular set-up, DO NOT assemble and use. Always use proper precautions and handling.
CBD DISCLAIMER: VaporDNA™ shall not be held liable for the medical claims made by customer testimonials. The statements made regarding these products have not been evaluated by the Food and Drug Administration. The efficacy of these products and the testimonials made have not been confirmed by FDA- approved research. These products are not intended to diagnose, treat, cure or prevent any disease. All information presented here is not meant as a substitute for or alternative to information from health care practitioners. Please consult your healthcare professional about potential interactions or other possible complications before using any product. The Federal Food, Drug, and Cosmetic Act requires this notice.
All CBD and Hemp products are consumables and no returns will be accepted. Shipping to addresses in the U.S.A. only.
NOTE: Descriptions, specifications, and claims are based on manufacturer information. Information listed and provided are to be used at the sole discretion of the consumer and are not representative of analysis, testing, and verification by VaporDNA and any and all of VaporDNA's parent and subsidiary companies. There is an inherent risk with the use of any and all rechargeable batteries in any circumstance. VaporDNA® and any and all of VaporDNA®'s parent and subsidiary companies are not responsible for damage if there is any modification of the batteries/chargers in any form or shape (including pack making). VaporDNA® and any and all of VaporDNA®'s parent and subsidiary companies are not responsible for any damage caused by the misuse and/or mishandling of Li-ion (Lithium-ion), LiPo (Lithium-ion Polymer) and any rechargeable batteries and chargers.

Use special caution when working with Li-ion (Lithium-ion), LiPo (Lithium-ion Polymer) and any rechargeable cells, as they are very sensitive to charging characteristics and may explode or burn if mishandled. Make sure the user has enough knowledge of Li-Ion (Lithium-ion), LiPo (Lithium-ion Polymer) and any rechargeable cells in charging, discharging, assembly and storage before use. Always charge in/on a fire-proof surface. Never leave charging batteries unattended. Do not use any rechargeable battery as well as any battery charger if any visible damage is present, as well as if the cell or charger has been stressed through mishandling, accidental or otherwise, even if damage may not be visible. Always store and transport rechargeable cells in a safe, non-conductive container in a controlled environment. Dispose of all battery cells and chargers in accordance to local laws and mandates.

VaporDNA™ will not be held responsible or liable for any injury, damage, or defect, permanent or temporary that may be caused by the improper use of a Li-ion (Lithium-ion), LiPo (Lithium-ion Polymer) and any rechargeable battery/batteries. Please have a basic understanding of the batteries you are using and how to care for them properly.

All pictures are based on practicality, copyright reserved.
Customer Reviews
Write a Review
Ask a Question
Filter Reviews:
coils
flavor
Vaping
juice
everything
things
battery
hand
parts
puffs
07/12/2020
Emily F.
United States
Great
Awesome product, nicely made!
06/24/2020
Braden C.
United States
Last time I order from VaporDNA
First of all, the order took over a WEEK just to ship. I read the 24-72 hour shipping timeframe but A WEEK? Really? If that's not enough, when the order finally arrived (2 weeks after order was placed) they gave me a RED one instead of the black aegis salt nic mod I had ordered. AND on top of THAT, the thing is literally defective because it seems to have been machines incorrectly or there was an error in the machine making the parts because The cartiridge doesn't stay locked down because it is allowed to much leeway to move backwards and therefore up. Hard to explain without seeing it but basically the cartridge has a lot of up/down play and comes out of the mod easily when it should be snug and stay put until you press the release. TL/DR: only did more order take forever and a day, but one of the mods I had ordered (of course it was the one I had ordered for myself, as I ordered one for me my roommate and my girlfriend) was the wrong color and damaged / defective. And I am not willing to go without a cape while I ship it back in to get a replacement. Never ordering from these guys again. Braden C Inbetweenwhere@gmail.com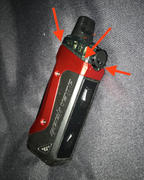 06/14/2020
Frank
United States
TL;DR save your money and just buy the damn thing
I'm fairly jaded when it comes to these pod-style vaporizers. Since I worked at a vape shop, I was able to try all of the latest devices and rack up a fair share of hands-on experience with nic salt vaporizers--all at a discount! The Aspire Breeze evolved into the Breeze II, and then the Aspire Spryte was released which quickly became my ADV for nic salt vapes. I purchased that damn thing 4 different times over the years due to dropping one, losing another, and watching the 3rd fall in the toilet. After trying all out these different vaporizers, you could imagine my disappointment when I couldn't get a coil to last me longer than 2-3 days no matter which device I was using. ****, sometimes the coil would trash out on me by the end of the first day of using it. Alas, it didn't stop me from walking to the vape shop and dropping another 20$ on ANOTHER 5-pack of coils. Ever since this pandemic kicked off, my local vape shop has really struggled to get their hands on replacement coils for their nic salt vaporizers, especially the Spryte. It got to the point where I was purchasing "replacement pods" for the Aspire Spryte since they were clean sold-out of Spryte coils and Aspire would include a coil with purchase of the pod. Needless to say, I was spending a ton of money on coils because I was under the impression that all of these pod-style nic salt vaporizers were created the same. I purchased the Geekvape Aegis Boost off VaporDNA and two packs of coils 1.5 weeks ago out of desperation due to these circumstances and I'm a little bummed out that I waited so long to replace the Spryte once and for all. 960 vapes and 1.5 weeks later and I can say that I'm still using the same damn coil that came in the box with the Aegis boost and so far I've only experienced minimal flavor degradation. That's crazy! I know that coil sales are one of those things that ends up racking up a lot of cash for these vape companies, so technically it's in these manufacturers' best interest to create sub-par coils that will need to be replaced frequently. I can't speak on behalf of the two packs of coils that I purchased with the Aegis boost, but I can say sincerely that GeekVape has created a stellar product in the Aegis Boost Pod System. If you feel like you're spending waaaaaay too much loot on replacement coils or just want to taste your vape juice the way it was meant to be tasted, the GeekVape Aegis Boost all-in-one pod system definitely raises the bar for flavor and has surpassed my expectations in almost every way. Bravo GeekVape!
06/05/2020
Darren J.
United States
Next best thing to having a zues sub ohm mod in ur pocket
love this guy.....started vapin a month ago and started with a aegis legend and zues sub ohm tank and a week later i found this and after lookin into it and reviews i decided to get one for purpose of work(construction site) and havent regretted it a second...small enough to fit in any pocket but holy **** at the flavor and clouds can get with this mod!!! almost as impressive as all that the battery life on the boost is astounding as well....alll day heavy usage and it keeps on going and when does finally drain it charges up to full within a hr and half. the coil life is rediculous as well...i have had coils in different pods now for a month and havent had any hint that they are losing flavor or clouds......great product and must buy for the best flavor and portability
Awesome Pod Mod!!!
I have been wanting to switch to vaping for a few months now in hopes that it would help me quit smoking. I purchased the nord and nord 2 first. I really like them and the different coil options they offer for their devices however I wanted something that gave me a few more features like the ability to adjust my airflow. After researching devices for several days I found this one. I not only liked the look of this device but the added features it had compared to my nords was a big plus as well. Seeing that it had everything I was looking for at a good price and with good reviews I decided to buy it. I've been using it for a few days now and so far I'm really enjoying it. It has been a challenge trying to find the right settings for each coil that works best for me but that could have a lot to do with me being new to the vaping world. I also purchased the RBA pod with this and look forward to trying that out once I get the hang of things better. Even though I've not had it for very long I'm still really happy with my purchase. The flavor and vapor production is great, the device is nice and solid yet very lightweight (even lighter then both of my nords), I like the way it fits in my hand and the display is very easy to read and to navigate. It came with two different tips for covering both MTL and DTL vaping and I enjoy them both. I honestly have nothing negative to say about this pod mod and look forward to using it for a long time.