Cloud Nurdz E-Liquid - Grape Strawberry - 100ml
Made in the USA
Grape Strawberry by Cloud Nurdz E-Liquid is about to educate your taste buds on what a good e-liquid is supposed to taste like. The ripe strawberries blend amazingly with the slightly tart grape flavor. These flavors are all bound together by a candy flavor that makes the juice hard to put down.

Available in 0, 3, and 6 milligrams of nicotine.
Customer Reviews
Filter Reviews:
juices
tank
flavor
taste
something
reviews
menthol
watermelon
liquid
looks
01/17/2020
James B.
United States
01/02/2020
James B.
United States
Cloud Nurdz E-Liquid
I've been trying to find a liquid that actually taste good. They all put these pretty labels on there that make your mouth water but taste like ****. THEN I FOUND CLOUD NURDS AND *****. THESE 2 ARE THE HOLY GRAIL. THE TASTE IS BALANCED PERFECTLY AND IT ACTUALLY TASTES AS GOOD AS THE LABLE LOOKS. BIG CLOUDS EPIC TASTES THESE ARE MY GO TOOS FOR EVER. IF YOU LIKE MENTHOL CLOUD NURDS HAVE THAT AS WELL (ICED) I'M NOT A FAN OF MENTHOL. NEVER LIKED IT WHEN I SMOKED CIGARETTES BUT IF YOUR A FAN THEY HAVE IT AND IM SURE ITS JUST AS GOOD.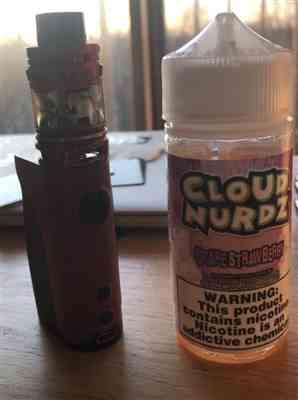 Literally spot on.....at first anyway
I can't tell you how many juices I've tried that the description and/or reviews will say that flavor is "spot on", yet until this, I can't say I'd had a single specialty type flavor (I just mean something that isn't straightforward like "Watermelon" or other single flavor profiles) that truly was "spot on". Until this. I honestly was on the fence about buying it to begin with, worried it would either have that medicinal note to it, or that it would be sweet in a thick/syrupy way that I don't like.... but on the first several puffs - almost the whole first tank - it was truly EXACTLY like the grape & strawberry nerds. The grape is stronger, but I definitely tasted both. It was nice and sweet - like in spun sugar sort of way.....really sweet, just not a heavy sweetness. But now I think it tastes a little weird, but it's not bad. It's almost like it tastes like fake-sweet, like nutra-sweet or something. But it's really not bad, just not an all day vape for me....
09/05/2019
Vt f.
United States
Flavor
Best flavor of all
Love This!
This is one of the best flavors ive tried so far. Went through an entire 100ml bottle within 2 weeks. Highly recommended.
CUSTOMERS WHO PURCHASED THIS ALSO BOUGHT