SMOK Vape Pen V2 60W Starter Kit
The SMOK Vape Pen V2 Starter Kit includes a 3ml mini sub-ohm tank and features a 60W output and a internal 1600mAh built-in rechargeable battery. Enhancing the flavor experience are the SMOK Vape Pen Replacement Coils which can be had in an assortment of coil options.
The SMOK Vape Pen V2 device measures in at 117.7mm by 22mm. The chassis is composed of a zinc alloy and with the measurements provided this device is perfect for on-the-go sub-ohm vaping. Externally, the device features a single fire button located below three adjustment LED's, which provide users a tactile vaping experience. The LED's notify users of the current wattage output, as well as the battery level when vaping. Internally the Vape Pen V2 is powered by a 1600mAh internal battery. The brains behind the device is the SMOK Vape Pen V2 proprietary chip-set. This allows the device to fire as high as 60 watts and features three different modes, which is perfect for this compact device. As an added convenience an integrated Micro USB port is present at the bottom of the device for fast charging on the go.
Included with the kit is a Mini vape tank that measures in at 22mm base diameter. With the compact design found in this overall package, users can accommodate a fairly large amount of eliquid, up to 3ml's. Maintaining a convenient filling mechanism, the mini tank features a threaded fill port which can be accessed by removing the drip tip. This allows users to quickly and single handedly fill their tanks in a fluid motion. The Vape Pen Replacement Coils are offered in various ohm and coil styles and require users to thread their coils into the base, just as simple as it is sufficient. Included with this kit are two 0.15 ohm Mesh Coils which feature a 30 to 50W power range. Overall this kit is perfect for new and veteran vapers alike. With great power output, simple user interface and a compact design, this Starter Kit is a perfect daily driver.
Product Specifications
Vape Pen V2 Device

Proprietary Chip-set
60W Max Wattage Output
3.0 to 4.2V Voltage Output
0.14 to 3.0 ohm Resistance Range
Wattage Mode
Zinc Alloy Chassis
LED Lights


Wattage Output
Battery Level


Internal Battery
Micro USB Charging Port
Overall Size: 117.7mm by 22mm

SMOK Mini Tank

22mm Base Diameter
Threaded Fill System

Removable Threaded Drip Tip


3ml Max E-Liquid Capacity
SMOK Vape Pen Coil Family

Meshed Coil Head

0.15 ohm
Mesh Coil
30 to 50W Range

Dual Adjustable Air Slots
Stainless Steel and Glass Construction
Product Includes
One SMOK Vape Pen V2 Device
Two 0.15 ohm Meshed Coils
One User Manual
One Micro USB Cable
Check out the SMOK Vape Pen V2 Starter Kit infographic to help you better understand how the product works!
Customer Reviews
Write a Review
Ask a Question
Filter Reviews:
battery-wise
second
backup
port
table
Vaporesso
Voopoo
convenience
charge
Lots
I recommend this product
Great portable vape
I've had large mods from Smok, Voopoo, Vaporesso, and some others with lots of features, but this has been my favorite so far. Doesn't last super long battery-wise, but the convenience more than makes up for it. It's a little awkward to charge since the port is halfway up. I set it in a cup or stand when it's charging so it stays upright and doesn't pull off the table. I've purchased a second as a backup and I alternate the two with different flavors.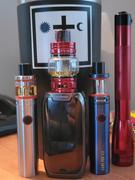 CUSTOMERS WHO PURCHASED THIS ALSO BOUGHT