VAPMOD Pipe 710 Concentrate Vaporizer
Vape with style with the petite Pipe 710 by VAPMOD. This concentrate vaporizer features a variable voltage output, allowing users to customize their vaping experience with simple press of a button. In addition, the 510 connector utilizes a strong magnet, allowing cartridges to stay housed in the removable cartridge seat. Light and petite, the Pipe 710 will do the job with pure simplicity and class.
The VAPMOD Pipe 710 is a surprisingly light yet durable device due to the polycarbonate and zinc alloy construction. This allows all the weight of the device to be focused on the base of the body allowing users to tilt the 510 connector, allowing it to look classy when used. This 510 connector has a strong magnet, allowing the up to 11mm cartridge to snap into place with ease. As added guidance, the Pipe 710 comes with a cartridge seat that can be threaded off and features multiple viewing ports to allow users how much is left. To avoid damage to the device, retract the 510 or cartridge back onto the device before storing. 
Operating the VAPMOD Pipe 710 can be easily done with the single oversized button located adjacent to the 510 connector. This oversized button acts as a light indicator for two things, cycling through the voltage output and as the charging light indicator. There are four different Voltage outputs to cycle through, each with a color coded indication, and can be easily changed with three clicks; White for 2.5V, Blue for 3.0V, Green for 3.5V, and finally red for 4.0V. Pressing the button two times will activate pre-heating mode. With pre-heating mode, the device will constantly run at 1.8V for 15 seconds. As a safety protection, the device will stop firing after 12 seconds.  Located behind the firing button, on the back of the device is a USB port. This USB port is to charge the integrated 900mAh battery and while charged, a dim green light will pulse on the firing button. 


Please Note: This device is designed for concentrates and is not intended to be used with any other media.


Product Specifications
All In One System

Single Button Activated Operation
Folding Style 510 Magnetic  Connection
Fits 11mm Cartridges
Removable Cartridge Seat

Variable Voltage Output

2.5V to 4.0V
Light Indicator
Preheating capability

15 Seconds with Constant 1.8V

Internal 900mAh Battery
LED Battery Life Indicator

Located at the Oversized Firing Button
Pulsing Green Light to Indicate Charging
Approximately 2.5 Hours to Charge

PC and Zinc Alloy Construction
12 Second Auto Cut-Off Time 
Product Dimensions:

21.8mm by 38.8mm by 46.8mm
Product Includes
One VAPMOD Pipe 710 Vaporizer
One USB Charging Cable
One User Manual
All orders have a processing time of 24-72 hours
Please refer to our Domestic Shipping and International Shipping pages for more detailed information.
CALIFORNIA ORDERS: Per California's STAKE Act, we are required to contact customers that place orders to be shipped to California. Customer's will be contacted by telephone with our automated telephone service to confirm your purchase. These calls will occur after 5pm PST.
State Regulations: Some states have specific laws regarding the sale and shipments of our products. If you do not see your state in the drop down menu when placing your order, that means we have currently stopped shipping to your state pending review of your state's regulation.
We can not accept orders to be shipped into Utah per Utah Code §59-14-509.
We have a 45 day return policy.
You may not return consumable items. This includes, but is not limited to: liquid products, coils/pods, cartridges, and batteries. Any item deemed consumable is non refundable.
Please refer to our Refund Policy page for more detailed information.
Advanced User Item. Use at Your Own Risk!
Please Note: Batteries must be matched in brand, model and battery state at all times. Discharge and recharge batteries within the same grouping of two. Failure to do so may result in injury. Never use damaged or improperly wrapped batteries with this device.
Warning: Never use a short or flat 510 connection on any hybrid or hybrid style device. If unsure whether this pertains to your particular set-up, DO NOT assemble and use. Always use proper precautions and handling.
CBD DISCLAIMER: VaporDNA™ shall not be held liable for the medical claims made by customer testimonials. The statements made regarding these products have not been evaluated by the Food and Drug Administration. The efficacy of these products and the testimonials made have not been confirmed by FDA- approved research. These products are not intended to diagnose, treat, cure or prevent any disease. All information presented here is not meant as a substitute for or alternative to information from health care practitioners. Please consult your healthcare professional about potential interactions or other possible complications before using any product. The Federal Food, Drug, and Cosmetic Act requires this notice.
All CBD and Hemp products are consumables and no returns will be accepted. Shipping to addresses in the U.S.A. only.
NOTE: Descriptions, specifications, and claims are based on manufacturer information. Information listed and provided are to be used at the sole discretion of the consumer and are not representative of analysis, testing, and verification by VaporDNA and any and all of VaporDNA's parent and subsidiary companies. There is an inherent risk with the use of any and all rechargeable batteries in any circumstance. VaporDNA® and any and all of VaporDNA®'s parent and subsidiary companies are not responsible for damage if there is any modification of the batteries/chargers in any form or shape (including pack making). VaporDNA® and any and all of VaporDNA®'s parent and subsidiary companies are not responsible for any damage caused by the misuse and/or mishandling of Li-ion (Lithium-ion), LiPo (Lithium-ion Polymer) and any rechargeable batteries and chargers.

Use special caution when working with Li-ion (Lithium-ion), LiPo (Lithium-ion Polymer) and any rechargeable cells, as they are very sensitive to charging characteristics and may explode or burn if mishandled. Make sure the user has enough knowledge of Li-Ion (Lithium-ion), LiPo (Lithium-ion Polymer) and any rechargeable cells in charging, discharging, assembly and storage before use. Always charge in/on a fire-proof surface. Never leave charging batteries unattended. Do not use any rechargeable battery as well as any battery charger if any visible damage is present, as well as if the cell or charger has been stressed through mishandling, accidental or otherwise, even if damage may not be visible. Always store and transport rechargeable cells in a safe, non-conductive container in a controlled environment. Dispose of all battery cells and chargers in accordance to local laws and mandates.

VaporDNA™ will not be held responsible or liable for any injury, damage, or defect, permanent or temporary that may be caused by the improper use of a Li-ion (Lithium-ion), LiPo (Lithium-ion Polymer) and any rechargeable battery/batteries. Please have a basic understanding of the batteries you are using and how to care for them properly.

All pictures are based on practicality, copyright reserved.
Customer Reviews
Write a Review
Ask a Question
10/13/2019
Cliff H.
United States
Not impressed
Well if I'm honest... I'm not happy at all! I purchased a 710 pipe that had fantastic reviews but just about a week in it's totally unusable.... all I get are flashing res lights... and I love gadgets so rest assured it was very well taken care of so idk if it's a fluke or what but I'm very much looking forward to the reply email.. I'll update as soon as possible. And please don't think this is a "bashing" post, as I said I love the product but 100% disappointed.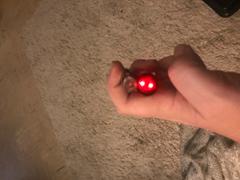 07/12/2019
Calvin S.
United States
Worked one time and then broke
Worked first time and now it's stuck flashing red.