YiHi SXMini G Class SX550J 200W Box Mod
This product has been discontinued, Click HERE to see more Devices or Starter Kits!

YiHi's SXMini G Class Box Mod integrates the YiHi SX550J chip set which offers tremendous power, accuracy, and sophistication combined with an ergonomic chassis, unique joystick control, beautiful and robust display technology, and an expertly machined chassis. The SXMini G Class utilizes the SX550J Chipset from YiHi, considered their top of the line flagship chipset capable of 5 to 200W of output alongside the SXi-Q Intelligent Taste Curve technology, full temperature control support, Bluetooth support, and precision and accuracy that rivals the best available on the market. SXi-Q Intelligent Taste Curve technology is loaded onboard, featuring a sophisticated algorithmic calculation that allows users to set, fine tune, and save 5 output curves. YiHi's highly regarded temperature control technology has native support for standard TC heating elements, and TCR functionality with Joule and Degree based settings. The SX550J is also capable of Bluetooth connectivity and adjustment, allowing users to set and adjust the G Class from compatible phones. The Colored OLED display features a vibrant display along with multiple arrangements and layouts that users can choose between, offering a dynamic display experience beyond many of the G Class' competitors. Additionally, YiHi has taken a bold approach with the integration of a joystick control, allowing a multidirectional and intuitive adjustment experience that practically none of it's direct competitors offer. Driving the entire system are two high amperage 18650 batteries (batteries sold separately), with a rapid 2A maximum charge port for minimal downtime. Driving YiHi's line-up as the undisputed flagship and center piece amidst a highly regarded line-up, the SXMini G Class SX550J 200W Box Mod is truly one of this generation's most sought after high end performance devices.


Product Specifications

YiHi SXMini G Class SX550J Box Mod
YiHi SX550J Chip Set

5 to 200W
1.0 to 9.5V
0.05 to 3.0 ohm Atomizer Resistance Range

SXi-Q Intelligent Taste Curve

Set Output Curve
5 Bank Memory

Temperature Control

Joule Mode
Ni200 Nickel Support
Titanium Support
Stainless Steel Support
TCR Functionality

Temperature Coefficient of Resistivity

Resistance Read and Lock
212 to 572 Degrees Fahrenheit

Bluetooth Compatible

Custom Set Logo
Change Settings from Phone

Three Button Control Face

Oversized Centrally Positioned Hexagon Firing Button
Joystick Adjustment Control

Intuitive and Ergonomic
Allows for More Sophisticated Option and Control Methods

Multi Format Colored OLED Display

Switch Between Various Display Arrangements

Class Leading Options and Support
Quickly Switch Between Alternative Views and Arrangements

Output Wattage
Output Voltage
Output Temperature
Battery Life Indicator
Battery Voltage
Atomizer Resistance
Work Mode
Time
SXi-Q Graph
Colored Background

Micro USB Charge and Update Port
Slide and Lock Bottom Battery Access Door

Accepts Two High Amperage 18650 Batteries
Sold Separately

Zinc Alloy and Aluminum Alloy Construction

High Quality Luxury Finish Options

30mm Stainless Steel 510

Spring Loaded Gold Plated 510 Connection

Reverse Polarity/Short/Low Resistance/Low Battery/Overheat Protection
Product Includes
One SXMini G Class 200W TC Box Mod
One Micro USB Cable
User Manual
All orders have a processing time of 24-72 hours
Please refer to our Domestic Shipping and International Shipping pages for more detailed information.
CALIFORNIA ORDERS: Per California's STAKE Act, we are required to contact customers that place orders to be shipped to California. Customer's will be contacted by telephone with our automated telephone service to confirm your purchase. These calls will occur after 5pm PST.
State Regulations: Some states have specific laws regarding the sale and shipments of our products. If you do not see your state in the drop down menu when placing your order, that means we have currently stopped shipping to your state pending review of your state's regulation.
We can not accept orders to be shipped into Utah per Utah Code §59-14-509.
We have a 45 day return policy.
You may not return consumable items. This includes, but is not limited to: liquid products, coils/pods, cartridges, and batteries. Any item deemed consumable is non refundable.
Please refer to our Refund Policy page for more detailed information.
Advanced User Item. Use at Your Own Risk!
Please Note: Batteries must be matched in brand, model and battery state at all times. Discharge and recharge batteries within the same grouping of two. Failure to do so may result in injury. Never use damaged or improperly wrapped batteries with this device.
Warning: Never use a short or flat 510 connection on any hybrid or hybrid style device. If unsure whether this pertains to your particular set-up, DO NOT assemble and use. Always use proper precautions and handling.
CBD DISCLAIMER: VaporDNA™ shall not be held liable for the medical claims made by customer testimonials. The statements made regarding these products have not been evaluated by the Food and Drug Administration. The efficacy of these products and the testimonials made have not been confirmed by FDA- approved research. These products are not intended to diagnose, treat, cure or prevent any disease. All information presented here is not meant as a substitute for or alternative to information from health care practitioners. Please consult your healthcare professional about potential interactions or other possible complications before using any product. The Federal Food, Drug, and Cosmetic Act requires this notice.
All CBD and Hemp products are consumables and no returns will be accepted. Shipping to addresses in the U.S.A. only.
NOTE: Descriptions, specifications, and claims are based on manufacturer information. Information listed and provided are to be used at the sole discretion of the consumer and are not representative of analysis, testing, and verification by VaporDNA and any and all of VaporDNA's parent and subsidiary companies. There is an inherent risk with the use of any and all rechargeable batteries in any circumstance. VaporDNA® and any and all of VaporDNA®'s parent and subsidiary companies are not responsible for damage if there is any modification of the batteries/chargers in any form or shape (including pack making). VaporDNA® and any and all of VaporDNA®'s parent and subsidiary companies are not responsible for any damage caused by the misuse and/or mishandling of Li-ion (Lithium-ion), LiPo (Lithium-ion Polymer) and any rechargeable batteries and chargers.

Use special caution when working with Li-ion (Lithium-ion), LiPo (Lithium-ion Polymer) and any rechargeable cells, as they are very sensitive to charging characteristics and may explode or burn if mishandled. Make sure the user has enough knowledge of Li-Ion (Lithium-ion), LiPo (Lithium-ion Polymer) and any rechargeable cells in charging, discharging, assembly and storage before use. Always charge in/on a fire-proof surface. Never leave charging batteries unattended. Do not use any rechargeable battery as well as any battery charger if any visible damage is present, as well as if the cell or charger has been stressed through mishandling, accidental or otherwise, even if damage may not be visible. Always store and transport rechargeable cells in a safe, non-conductive container in a controlled environment. Dispose of all battery cells and chargers in accordance to local laws and mandates.

VaporDNA™ will not be held responsible or liable for any injury, damage, or defect, permanent or temporary that may be caused by the improper use of a Li-ion (Lithium-ion), LiPo (Lithium-ion Polymer) and any rechargeable battery/batteries. Please have a basic understanding of the batteries you are using and how to care for them properly.

All pictures are based on practicality, copyright reserved.
Customer Reviews
Write a Review
Ask a Question
Filter Reviews:
things
times
device
battery
battery life
features
complaints
menu
functionality
button
01/30/2019
Jeremy M.
United States
Untapped potential
I bought this because it was the single best-reviewed TC-supporting mod that had all of the features I wanted. One of those features was supporting coil-less atomizers. Unfortunately, since I bought this mod, I've found that it's IMPOSSIBLE to find any of the coil-less tanks designed to work with this mod. It's still great for temp/watt control, but that was disappointing. I also don't think the joystick control is particularly intuitive, nor are the button controls. For example, you click 3 times to lock it, and 5 times to open the menu. To unlock it, you press the button 3 times and flick the joystick down. Well, what frequently happens is that I press the button 3 times to lock it, then change my mind and press the button 3 more times to unlock it, and then wind up in the menu instead. I exit the menu and press the button 3 more times to unlock it, only it's unlocked after exiting the menu, so now I've locked it again. Finally, the battery gauge isn't very precise - not only will it shift by large amounts when locking and unlocking the mod, but it also shows a nontrivial chunk of battery life remaining when it starts refusing to fire due to a low battery. Granted, all of these complaints are picky things, and the *functionality* of the device as a vape mod is FANTASTIC... but for over $200, I expected to be a little more impressed.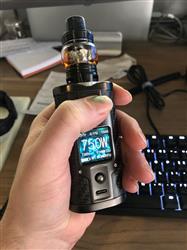 03/05/2018
Tyler S.
Castalia, OH United States
Great
Great product fast shipping. A little expensive but worth it.
01/30/2018
Petr M.
Westbrook, ME United States
Not impressed
It looks beautiful and feels very sturdy but I am returning this because: 1. Both the PC software and Android app are horrible and keep crashing. 2. The display is too small and hard to read, even with my glasses on. 3. The main instruction manual on the manufacturer's website is only in Chinese. 4. It's too complicated to use on its own. And the software is a joke. There are no good English instructions. Therefore I can't even access many of its functions.
We are sorry for the delayed response. We wanted to thank you for taking the time to leave your review. Please know that if you ever need any assistance, you can reach out to us at team@vapordna.com. Sincerely, Daniel VaporDNA Customer Service Team
11/10/2017
Hameed A.
Salem, OH United States
Best mod
Now I can say that I own The best mod in world
09/30/2017
Ian
NM United States
Great device, almost 5 stars.
Purchased on 7/4/17. Wanted to spend some time with it before a review. Problems: Within 2 weeks, black paint was flaking. Odd because it never left the house, never put in pocket. Contacted VaporDNA to let them know, they offered to help, but i never followed up as it was only cosmetic. Now, second issue. Bluetooth. You can Update software, upload custom wallpaper. But now? It doesn't work. Unaware if this is an application issue or an on board BT issue. Tried getting in contact with YiHi and there hasn't been a response. Note the usb-c QUICK charge works as advertised. However, the high amp load will decrease your battery lifespan. Can be both +/-. Positives? Amazing feel in hand, accurate TCR, Joystick is a breeze to use. I was a "DNA-only" guy, but this device completely changed my mind. Despite the premium price point, it's become my everyday carry and i absolutely love it. If i lost it today, I'd buy another in a heartbeat, even with its small flaws.