SnowWolf Wocket 25W Pod Vape System
The Wocket 25W Pod Vape System from SnowWolf is the premier pod system from the SnowWolf lineup. The Wocket features and elegant Zinc Alloy chassis with smooth body lines and recessed decorative panels. Inside the Wocket is a built-in 1150mAh LiPo battery which can be charged via the on-board micro USB port. The Wocket features an Insta-Fire System which allows for a fire rate of 0.015 seconds. With flavor in mind, SnowWolf designed the Wocket Pods (sold separately) around their new X-Grid Coil Technology mesh type coils.
The SnowWolf Wocket utilizes a two button chipset with an adjustable power output of 5W to 25W and an OLED display screen. A large firing button, featuring the SnowWolf logo, controls the firing of the device and also allows the device to be turned on/off with five clicks. Below the screen is a single adjustment button that can adjust the wattage in 1W increments up to 25W before rolling over back down to 5W. The OLED display screen features a simple readout for battery life, wattage, puff counter, and draw timer. The puff counter can be used to monitor your vaping habit and can be reset daily by holding down the firing button and adjustment button simultaneously.
The SnowWolf Wocket works best with regular vape juice, but can also be used with lower level salt nic e-liquids. With a 0.7ohm coil, massive adjustable airflow, and up to 25W of power; this pocket sized device is a vapor producing machine!
Check out Ryan Hall's Video Review HERE!
Product Specifications
Proprietary Chipset 


5W to 25W

1W Increments
Insta-Fire System

Two Button Control Interface

OLED Display


Battery Life Indicator
Wattage Output
Puff Counter
Draw Timer

1150 mAh Built In Battery
Micro USB Port

1A Charging
No Pass Through Feature

Zinc Alloy Chassis

Decorative Side Panel Inlays
Product Dimensions
93.6mm by 40.5mm by 15.4mm
Product Includes (Mod Only
One Wocket Pod System Device
One User Manual
One USB Charging Cable
Product Includes (Starter Kit)
One Wocket Pod System Device
One Wocket Replacement Pod
One Wocket Replacement Coil
Check out the SnowWolf Wocket Pod System infographic to help you better understand how this product works!
All orders have a processing time of 24-72 hours
Please refer to our Domestic Shipping and International Shipping pages for more detailed information.
CALIFORNIA ORDERS: Per California's STAKE Act, we are required to contact customers that place orders to be shipped to California. Customer's will be contacted by telephone with our automated telephone service to confirm your purchase. These calls will occur after 5pm PST.
State Regulations: Some states have specific laws regarding the sale and shipments of our products. If you do not see your state in the drop down menu when placing your order, that means we have currently stopped shipping to your state pending review of your state's regulation.
We can not accept orders to be shipped into Utah per Utah Code §59-14-509.
We have a 45 day return policy.
You may not return consumable items. This includes, but is not limited to: liquid products, coils/pods, cartridges, and batteries. Any item deemed consumable is non refundable.
Please refer to our Refund Policy page for more detailed information.
Advanced User Item. Use at Your Own Risk!
Please Note: Batteries must be matched in brand, model and battery state at all times. Discharge and recharge batteries within the same grouping of two. Failure to do so may result in injury. Never use damaged or improperly wrapped batteries with this device.
Warning: Never use a short or flat 510 connection on any hybrid or hybrid style device. If unsure whether this pertains to your particular set-up, DO NOT assemble and use. Always use proper precautions and handling.
CBD DISCLAIMER: VaporDNA™ shall not be held liable for the medical claims made by customer testimonials. The statements made regarding these products have not been evaluated by the Food and Drug Administration. The efficacy of these products and the testimonials made have not been confirmed by FDA- approved research. These products are not intended to diagnose, treat, cure or prevent any disease. All information presented here is not meant as a substitute for or alternative to information from health care practitioners. Please consult your healthcare professional about potential interactions or other possible complications before using any product. The Federal Food, Drug, and Cosmetic Act requires this notice.
All CBD and Hemp products are consumables and no returns will be accepted. Shipping to addresses in the U.S.A. only.
NOTE: Descriptions, specifications, and claims are based on manufacturer information. Information listed and provided are to be used at the sole discretion of the consumer and are not representative of analysis, testing, and verification by VaporDNA and any and all of VaporDNA's parent and subsidiary companies. There is an inherent risk with the use of any and all rechargeable batteries in any circumstance. VaporDNA® and any and all of VaporDNA®'s parent and subsidiary companies are not responsible for damage if there is any modification of the batteries/chargers in any form or shape (including pack making). VaporDNA® and any and all of VaporDNA®'s parent and subsidiary companies are not responsible for any damage caused by the misuse and/or mishandling of Li-ion (Lithium-ion), LiPo (Lithium-ion Polymer) and any rechargeable batteries and chargers.

Use special caution when working with Li-ion (Lithium-ion), LiPo (Lithium-ion Polymer) and any rechargeable cells, as they are very sensitive to charging characteristics and may explode or burn if mishandled. Make sure the user has enough knowledge of Li-Ion (Lithium-ion), LiPo (Lithium-ion Polymer) and any rechargeable cells in charging, discharging, assembly and storage before use. Always charge in/on a fire-proof surface. Never leave charging batteries unattended. Do not use any rechargeable battery as well as any battery charger if any visible damage is present, as well as if the cell or charger has been stressed through mishandling, accidental or otherwise, even if damage may not be visible. Always store and transport rechargeable cells in a safe, non-conductive container in a controlled environment. Dispose of all battery cells and chargers in accordance to local laws and mandates.

VaporDNA™ will not be held responsible or liable for any injury, damage, or defect, permanent or temporary that may be caused by the improper use of a Li-ion (Lithium-ion), LiPo (Lithium-ion Polymer) and any rechargeable battery/batteries. Please have a basic understanding of the batteries you are using and how to care for them properly.

All pictures are based on practicality, copyright reserved.
Customer Reviews
Write a Review
Ask a Question
Filter Reviews:
device
delivery
VaporDNA
nothing
option
color
pictures
expectation
Unicorn Rainbow
05/13/2020
Charlene L.
United States
I recommend this product
Surprised
I didn't have much expectation for this lil guy but I'm pleasantly pleased. I have told everyone that they should get one of these. User friendly and dependable.
08/02/2019
Mark I.
United States
QC Problems
I think Uwell jumped the gun on releasing this unit so fast. There have been some QC problems with the pod fitting into the unit properly. Once seated, you may see a tiny gap at the narrow end of the pod. Not a dealbreaker, necessarily, unless you're as OCD as I am. I returned the unit and got another one in a different color, which was sad because I really liked the Unicorn Rainbow option. But I didn't want to take the chance that the rest of them in that color were similarly affected, or that I ended up with the same unit shipped back to me. The return process was a pain in the ***, as well. Write an email, include pictures, then someone contacts you by email with your options. You send another email back outlining which way you want to go (full returrn or store credit), then you get another email with a link for a return label. Print the label, ship it, and then wait....and wait....and wait... and wait. It took a full week after they received the defective unit back before they ever credited my money back. And that was only after I emailed to ask '***.' All of that said, this really is a great AIO unit. If you're willing to take a chance that you'll have to return it to get it right.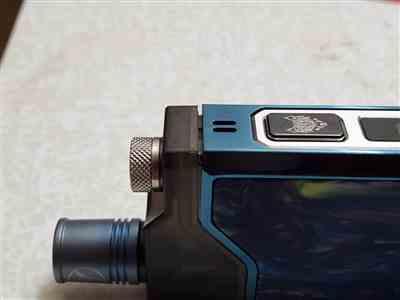 07/06/2019
Aaron N.
United States
Wocket in my pocket but no pod
The wocket vapes pretty good once you get a pod and coils for it. I ordered this wondering if I needed a pod and coils but I read a review stating it came with everything needed on vapordna's page. NOT TRUE! You have to get them separate which is pretty lame! If a mod doesn't even come with the needed parts to use it then the seller should make it perfectly clear imo. I'm happy with the mod but wasn't when I received it and had to wait another week to even use it. Much happier with this over the nord. My nord leaks like crazy so this is what replaced it. Get one but don't forget the pod and coils!
07/05/2019
Daniel P.
United States
Cool looking, awful coils and airflow
I've never been more disappointed with a purchase honestly. The quality is nice and it looks and feels really nice, but the coils just don't last long and the airflow is just the worst. Theirs no way to get a tight hit on this thing and the flavor stinks. I ended up purchasing a caliburn later in the week because I needed a new vape and I retired my Wocket immediately. Literally used the vape for about a week and will never use it again.
Great Flaovor
I like the flavor I get from the Wocket. The display lets me know how many puffs I have taken. Wonderful device.