SMOK I-Priv 230W Voice Control TC and TFV12 Prince Full Kit
SMOK introduces their first ever "AI" vape mod, the I-Priv 230W, a box mod capable of up to 230W, a large range of voice control, and a round TFT display. The I-Priv Box Mod utilizes a round TFT screen that displays an array of essential data to the user and features a full temperature control suite. By saying, "Hello, I-Priv", users will activate the voice recognition prompt; commands in this mode includes, "Best Power", "Power Up", "Power Down", "Power Off", "Wattage Mode", "TC Mode", "Lock Device", "Unlock Device", "Light On", "Light Off", "SOS", "Light Flash", "Light Color", "Screen Color", and "Voice Play!". Each command code has its own specific Voice Response. Powering the I-Priv are dual high amperage 18650 or 20700 batteries (sold separately). Located on the bottom of the I-Priv is a LED light that can be customized with 9 different settings; Red, Green, Blue, Yellow, Purple, Cyan, White, RGB, Rainbow. Included with the I-Priv Box Mod is the new SMOK TFV12 Prince Sub-Ohm Tank which combines the best elements of two of the most popular and critically acclaimed tanks today, packing in the manageable size and affordable performance coil family with the capacity and range of the full sized TFV12. Have a smart companion with SMOK's incredible line-up, the I-Priv 230W Voice Control TC and TFV12 Prince combine to create the showcase set-up of the year.

Due to the nature of this sale, all sales are final and no refunds or exchanges will be accepted. Store Credit may be permitted if item is defective on arrival.
Mod Specifications
Proprietary Chipset

1 to 230W Output
0.1 to 2.5ohm Atomizer Range
18650 Battery Adapter Included

Batteries Sold Separately

Firmware Upgradable

Voice Control Capability

"Hello I-Priv" Activates Speech Recognition
Multiple Commands

Best Power
Power Up
Power Down
Power Off
Wattage Mode
TC Mode
Lock Device
Unlock Device
Light On
Light Off
SOS
Light Flash
Light Color
Voice Play!

Full Temperature Control

Titanium Support
Ni200 Nickel Support
Stainless Steel 316 Support
TCR Mode
Atomizer Resistance Lock
200 to 600 Degrees Fahrenheit
0.05 ohm Minimum Atomizer Resistance

Round TFT Screen Display Screen

Vertical Stack
Output Mode
Output Temperature
Output Power
Output Voltage
Output Current
Atomizer Resistance
Puff Counter
Individual Battery Life Indicators

Customizable RGB Menu Color

Red
Purple
Yellow
Red
Teal
Green

Customizable RGB LED Light

Located On The Bottom

Red
Green
Blue
Yellow
Purple
Cyan
White
RGB
Rainbow

Three Button Control Face

Oversized Fire Button
Dual Adjustment Buttons

Back Slide and Lock Battery Access Door

Accepts Three High Amperage 18650 or 20700 Batteries (sold separately)

Micro USB Update and Charging Port
Spring Loaded Stainless Steel 510 Connection
10 Second Cut-Off, Intelligent Atomizer Recognition, Puff Monitoring System, Short Circuit Protection, Over-Heating Protection
Product Dimensions:
Atomizer Specifications
25mm Diameter Base
Hinge and Lock Top Fill System
5ml Max Standard Capacity
8ml Max Convex Glass Extension Capacity
SMOK V12 Prince Coil Family

V12 Prince Strip Coil Head

0.15 ohm
40 to 100W Range
80 to 90W Recommended Range

V12 Princ Mesh Coil Head

0.15 ohm
Mesh Coil
40 to 80W
60 to 70W Recommended Range

Compatible with Additional V12 Prince Coils

Dual Adjustable Airslots
Stainless Steel and Glass Construction
TFV12 Prince Product Dimensions:
Product Includes
One I-Priv 230W TC Box Mod
One SMOK TFV12 Prince Sub-Ohm Tank

One V12 Prince Strip Coil 0.15 ohm Coil Head
One V12 Prince Strip Coil 0.15 ohm Mesh Coil Head

USB Charging Cable
18650 Battery Adapter
Replacement Parts and Glass
User Manual
All orders have a processing time of 24-72 hours
Please refer to our Domestic Shipping and International Shipping pages for more detailed information.
CALIFORNIA ORDERS: Per California's STAKE Act, we are required to contact customers that place orders to be shipped to California. Customer's will be contacted by telephone with our automated telephone service to confirm your purchase. These calls will occur after 5pm PST.
State Regulations: Some states have specific laws regarding the sale and shipments of our products. If you do not see your state in the drop down menu when placing your order, that means we have currently stopped shipping to your state pending review of your state's regulation.
We can not accept orders to be shipped into Utah per Utah Code §59-14-509.
We have a 45 day return policy.
You may not return consumable items. This includes, but is not limited to: liquid products, coils/pods, cartridges, and batteries. Any item deemed consumable is non refundable.
Please refer to our Refund Policy page for more detailed information.
Advanced User Item. Use at Your Own Risk!
Please Note: Batteries must be matched in brand, model and battery state at all times. Discharge and recharge batteries within the same grouping of two. Failure to do so may result in injury. Never use damaged or improperly wrapped batteries with this device.
Warning: Never use a short or flat 510 connection on any hybrid or hybrid style device. If unsure whether this pertains to your particular set-up, DO NOT assemble and use. Always use proper precautions and handling.
CBD DISCLAIMER: VaporDNA™ shall not be held liable for the medical claims made by customer testimonials. The statements made regarding these products have not been evaluated by the Food and Drug Administration. The efficacy of these products and the testimonials made have not been confirmed by FDA- approved research. These products are not intended to diagnose, treat, cure or prevent any disease. All information presented here is not meant as a substitute for or alternative to information from health care practitioners. Please consult your healthcare professional about potential interactions or other possible complications before using any product. The Federal Food, Drug, and Cosmetic Act requires this notice.
All CBD and Hemp products are consumables and no returns will be accepted. Shipping to addresses in the U.S.A. only.
NOTE: Descriptions, specifications, and claims are based on manufacturer information. Information listed and provided are to be used at the sole discretion of the consumer and are not representative of analysis, testing, and verification by VaporDNA and any and all of VaporDNA's parent and subsidiary companies. There is an inherent risk with the use of any and all rechargeable batteries in any circumstance. VaporDNA® and any and all of VaporDNA®'s parent and subsidiary companies are not responsible for damage if there is any modification of the batteries/chargers in any form or shape (including pack making). VaporDNA® and any and all of VaporDNA®'s parent and subsidiary companies are not responsible for any damage caused by the misuse and/or mishandling of Li-ion (Lithium-ion), LiPo (Lithium-ion Polymer) and any rechargeable batteries and chargers.

Use special caution when working with Li-ion (Lithium-ion), LiPo (Lithium-ion Polymer) and any rechargeable cells, as they are very sensitive to charging characteristics and may explode or burn if mishandled. Make sure the user has enough knowledge of Li-Ion (Lithium-ion), LiPo (Lithium-ion Polymer) and any rechargeable cells in charging, discharging, assembly and storage before use. Always charge in/on a fire-proof surface. Never leave charging batteries unattended. Do not use any rechargeable battery as well as any battery charger if any visible damage is present, as well as if the cell or charger has been stressed through mishandling, accidental or otherwise, even if damage may not be visible. Always store and transport rechargeable cells in a safe, non-conductive container in a controlled environment. Dispose of all battery cells and chargers in accordance to local laws and mandates.

VaporDNA™ will not be held responsible or liable for any injury, damage, or defect, permanent or temporary that may be caused by the improper use of a Li-ion (Lithium-ion), LiPo (Lithium-ion Polymer) and any rechargeable battery/batteries. Please have a basic understanding of the batteries you are using and how to care for them properly.

All pictures are based on practicality, copyright reserved.
Customer Reviews
Filter Reviews:
tank
coils
experience
batteries
price
something
fact
voice control
command
voice
02/10/2019
Javier G.
United States
Nice Mod, Showcase Piece
My overall experience using the device was good, it delivers and at that price range that I got it for, it was more then a great bargain. The tank delivers as expected.
No voice
I like the unit for the price. Sad fact is do not buy just for the AI. Day 1 right out of the box the voice commands do not work.
We are sorry for the delayed response. We wanted to thank you for taking the time to leave your review. Please know that if you ever need any assistance, you can reach out to us at team@vapordna.com. Sincerely, TG VaporDNA Customer Service Team
02/03/2019
Anonymous
United States
I got it cheap
Very nice and its works
01/31/2019
Calletana G.
United States
Awesome Product at an Amazing PRICE!!!
I was unsure about the product and passed it up in the store at $120. On my now favorite online hardware place VAPERDNA I found it for under $40 which was much more reasonable to try. Not only do I absolutely love the flexibility of this new MOD It surprised me the moment I put batteries in. I will admit I was attracted to its design and the lure of the voice control made it remind me of a transformer! When I put the batteries in the first thing is says is "Hello Master, I am your warrior." I about died! lol There are a few features that are a little less charming like the available light on it... I wish it made it come up through the actual mod instead of like a flashlight out of the bottom. That would have been cool. Only other thing that would make it better is if they did do a Transformer partnership and create them to look like Optimus Prime or something and come on saying "Hello, I am Optimus Prime". And have that voice talking back. Amazing!! The tank is awesome as well and has a wide variety of coils to put in it depending on the temps you want to vape at. I've tried the low temp mesh and all the way to the high temp and they are all great in their own rights. I am not as huge a fan of the mesh's but I love the Prince T10. Of all the ones I have tried so far it is my jam! All in all I love the purchase. I wouldn't have been as happy with it at retail price but luckily VAPERDNA has our backs!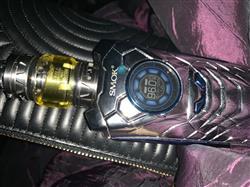 01/29/2019
Martin F.
United States
SMOK I Priv
The item is great works good except the screen is cracked so only 2/3 of the screen is display. Will buy a another one and keep this one as a spare.