Lost Vape Drone BF Squonk DNA 250C Box Mod
The Lost Vape BF Squonk Drone Box Mod returns with the newest chipset from Evolv, the DNA250C! In true Lost Vape fashion, the Drone DNA 250C features a stunning and futuristic chassis design backed with Evolv technology. Based off of the original three battery Triade, the Drone integrates many unique design elements such as a poly-angular chassis, Zinc Alloy uni-body frame, and accenting panels. The accenting front, back and top panel are made of durable plastic which gives the mod a sophisticated look while helping with weight reduction. With beautiful body lines, the front panel supports the four button control interface and vibrant OLED color screen found on all DNA 250C devices. The back panel allows access to both the dual 18650 battery (sold seperately) sled and the 8ml silicone squonk bottle, and features a side cutout to access the bottle for squonking. Up top, the user will find a stainless steel 510 connector with silver plated squonk pin. The flat top plate allows for the installation of any BF squonk atomizer up to 30mm in diameter.
Powering the BF Drone is a down-throttled DNA 250 Color chipset by Evolv; The current flagship from a lineup widely considered to be the most advanced and sophisticated chipset manufacturer today. The down-throttled DNA 250C Chipset features an output range from 1 to 200W with an industry leading 97% power efficiency rating. Coupled with the extended output range is what is widely considered the industry benchmark in Temperature Controlled output, with near limitless support and configurations available when used with the companion Escribe application. Included with the DNA 250C functionality is Boost Mode and Replay; Boost Mode increases the initial power output and ramp-up time on the first puff, allowing users to reach the point where they produce vapor much quicker, Replay allows users to always have the perfect flavor while using temperature control with a wider option of viable coil combinations.
Product Specifications
Lost Vape Drone BF Squonk DNA 250C Box Mod
DNA 250C Chipset

Official Evolv Chipset
1 to 200W Output
Full Color Screen
Escribe Compatible

Temperature Control Suite

Ni200 Nickel Support
Titanium Support
Stainless Steel Support
Additional Settings Configured Through Escribe
200 to 600 Degrees Fahrenheit

Squonk Platform

8ml Capacity
Threaded Attachment

Dual 18650 Platform

Gold Plated Spring Loaded Contacts
Parallel Configuration
Batteries Sold Separately

Black and Silver Finish
Four Button Control Face

Oversized Firing and Adjustment Buttons
Rectangular Adjustment and Menu Buttons

0.91 Inch OLED Color Display Screen

Displays Essential Data Neatly
Adjustable via Escribe

Escribe Companion Software

Configure and Modify the operation of the DNA 250C

Micro USB Port

1A Charging
2A Onboard Charging
Firmware and Software Upgrade

UTEM and Die Cast Zinc Alloy Construction
Stainless Steel 510 Thread Point

Nickel Plated Brass 510 Contact
DNA250C Features
1 to 200W Output Range
1 to 7.4V Output
0.1 to 2.0 ohm Kanthal Resistance Range
0.08 to 1.0 ohm Temperature Sensing Range
Temperature Range

200 to 600 Degrees Fahrenheit

Cell by Cell Monitoring
Cell Balancer
Atomizer, Weak Battery, Temperature, Resistance, Auto Power Down, and Heat Protection
Escribe

Configure and Modify the operation of the DNA 200

Auto Sensing Temperature Resistance
Lock Mode
Stealth Mode
Power Lock Mode
Power Preset Mode
Resistance Lock
Max Temperature Adjustment
Efficiency
Screen On Current
Quiescent Current
Power Down Current
Product Includes
One Lost Vape Drone BF Squonk DNA 250C Box Mod
Two 8ml Squonk bottles
User Manual
Micro USB Cable
One OTG Adapter
Check out the Lost Vape Drone infographic to help you better understanding how the product works!
All orders have a processing time of 24-72 hours
Please refer to our Domestic Shipping and International Shipping pages for more detailed information.
CALIFORNIA ORDERS: Per California's STAKE Act, we are required to contact customers that place orders to be shipped to California. Customer's will be contacted by telephone with our automated telephone service to confirm your purchase. These calls will occur after 5pm PST.
State Regulations: Some states have specific laws regarding the sale and shipments of our products. If you do not see your state in the drop down menu when placing your order, that means we have currently stopped shipping to your state pending review of your state's regulation.
We can not accept orders to be shipped into Utah per Utah Code §59-14-509.
We have a 45 day return policy.
You may not return consumable items. This includes, but is not limited to: liquid products, coils/pods, cartridges, and batteries. Any item deemed consumable is non refundable.
Please refer to our Refund Policy page for more detailed information.
Advanced User Item. Use at Your Own Risk!
Please Note: Batteries must be matched in brand, model and battery state at all times. Discharge and recharge batteries within the same grouping of two. Failure to do so may result in injury. Never use damaged or improperly wrapped batteries with this device.
Warning: Never use a short or flat 510 connection on any hybrid or hybrid style device. If unsure whether this pertains to your particular set-up, DO NOT assemble and use. Always use proper precautions and handling.
CBD DISCLAIMER: VaporDNA™ shall not be held liable for the medical claims made by customer testimonials. The statements made regarding these products have not been evaluated by the Food and Drug Administration. The efficacy of these products and the testimonials made have not been confirmed by FDA- approved research. These products are not intended to diagnose, treat, cure or prevent any disease. All information presented here is not meant as a substitute for or alternative to information from health care practitioners. Please consult your healthcare professional about potential interactions or other possible complications before using any product. The Federal Food, Drug, and Cosmetic Act requires this notice.
All CBD and Hemp products are consumables and no returns will be accepted. Shipping to addresses in the U.S.A. only.
NOTE: Descriptions, specifications, and claims are based on manufacturer information. Information listed and provided are to be used at the sole discretion of the consumer and are not representative of analysis, testing, and verification by VaporDNA and any and all of VaporDNA's parent and subsidiary companies. There is an inherent risk with the use of any and all rechargeable batteries in any circumstance. VaporDNA® and any and all of VaporDNA®'s parent and subsidiary companies are not responsible for damage if there is any modification of the batteries/chargers in any form or shape (including pack making). VaporDNA® and any and all of VaporDNA®'s parent and subsidiary companies are not responsible for any damage caused by the misuse and/or mishandling of Li-ion (Lithium-ion), LiPo (Lithium-ion Polymer) and any rechargeable batteries and chargers.

Use special caution when working with Li-ion (Lithium-ion), LiPo (Lithium-ion Polymer) and any rechargeable cells, as they are very sensitive to charging characteristics and may explode or burn if mishandled. Make sure the user has enough knowledge of Li-Ion (Lithium-ion), LiPo (Lithium-ion Polymer) and any rechargeable cells in charging, discharging, assembly and storage before use. Always charge in/on a fire-proof surface. Never leave charging batteries unattended. Do not use any rechargeable battery as well as any battery charger if any visible damage is present, as well as if the cell or charger has been stressed through mishandling, accidental or otherwise, even if damage may not be visible. Always store and transport rechargeable cells in a safe, non-conductive container in a controlled environment. Dispose of all battery cells and chargers in accordance to local laws and mandates.

VaporDNA™ will not be held responsible or liable for any injury, damage, or defect, permanent or temporary that may be caused by the improper use of a Li-ion (Lithium-ion), LiPo (Lithium-ion Polymer) and any rechargeable battery/batteries. Please have a basic understanding of the batteries you are using and how to care for them properly.

All pictures are based on practicality, copyright reserved.
Customer Reviews
Write a Review
Ask a Question
Filter Reviews:
everything
vape
people
device
battery
fact
prices
pulse
Escribe
chance
WS
11/13/2019
Wade S.
United States
My first DNA mod!
I got this when it was on sale, just to see what all the hype of dnas was about. The mod is fine and no problems. Just not sold on the dna board. It's cool you can customize everything about the device with escribe but I don't want to take the time to change everything. I have tried a few different themes before I settled on one I liked the best. The drawbacks are that the device can't be turned off except by removing the batteries. The mod will drain your battery even when it goes to sleep and locks itself. If you have a theme with date and time you have to reset it every time you swap out the batteries. The device is good but DNA just doesn't do it for me.
11/08/2019
Luis S.
United States
Beautiful mod but leaks
Using a mod that leaks within the first hours of being taken out of the box is really frustrating, a complete let down.
11/07/2019
Christopher C.
United States
First DNA
I purchased this device on sale because I never used a DNA device but I wanted the Drone for a few years now. I have the topside single and duel battery and the VV pulse. The Drone functions very well when you vape in wattage mode the vape feels and tastes like the wattage you select. All the other devices I have seems to increase the temperature. The Drone appears to only give you the power you select. I really enjoy this device but will never take it out don't want to take a chance outdoors. Only issue I have is the battery door feels cheap and clicks at times. I am not sure if Lost Vape sells battery doors I'll like it more if and when they do sell them. Escribe is easy to use and import adjustments to device. If you are looking for a great vape device for home use this is the one. There are several dna 250c devices out there that are cheaper but cheap is what you get with most of them. Feels great in hand battery life is also great. If you can't get it on sale buy it for yourself for Christmas. Once the whole pod craze dies down people are going to go back to rebuildables and sqounk devices. Then the prices are going back up get it now while you can.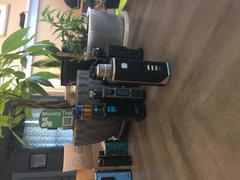 Good
Súper potente. no el mod mas pequeño pero de muy buena calidad
Squint dna
Awesome once paired up with the e-scribe app