Geekvape Alpha Sub-Ohm Tank
The Geekvape Alpha Sub-Ohm Tank is the new flagship sub-ohm tank developed by Geekvape; featuring great flavor and smooth use. The Geekvape Alpha measures at 25mm base diameter and consists of a resin and stainless steel construction. Juice enters the Geekvape Alpha through a push to open fill port and can accommodate up to 4ml of your favorite E-Liquid. The Geekvape Alpha utilizes the MeshMellow Coil Family and consists of the X1 and X2; The X1 is a single mesh coil head rated at 0.2 ohm with a wattage range of 60 to 110W, best at 75 to 95W, whilst the X2 is a dual mesh coil head rated at 0.4 ohm with a 50 to 80W, best at 60 to 70W. Airflow enters the Geekvape Alpha through the 9mm by 3.5mm dual airflow slots which can be adjusted simultaneously. The Geekvape Alpha Sub-Ohm tank is a great and flavorful tank that pairs perfectly with any devices out in the market!


Due to the nature of manufacturing and design, each Geekvape Alpha Sub-Ohm Tank drip tip colors come in random. Photos are for reference only and are not representative of the variances of each unit. Each unit will be sent out as packaged and at random.

Product Specifications
Geekvape Alpha Tank
25mm Diameter

Spring Locked Swivel Top Fill System

Single Fill Port
4ml Maximum Tank Capacity with Bubble Glass Tank Section

MeshMellow Coil Family

MM X1 Coil

Single Mesh
0.2 ohm
Kanthal
60 to 110W Recommended Range
75 to 95W Best Range

MM X2 Coil

Dual Mesh
0.4 ohm
Kanthal
50 to 80W Recommended Range
60 to 70W Best Range

Dual Bottom Airslots
9mm Bore 810 Resin Drip Tip
Gold Plated 510
Stainless Steel and Glass Construction
Product Includes
One Geekvape Alpha Sub-Ohm Tank
One 4.0ml Spare Bubble Glass Tank Section
One 0.2 ohm X1 MeshMellow Replacement Coil
One 0.4 ohm X2 MeshMellow Replacement Coil
One Spare Parts Bag
Spare Parts Bag
All orders have a processing time of 24-72 hours
Please refer to our Domestic Shipping and International Shipping pages for more detailed information.
CALIFORNIA ORDERS: Per California's STAKE Act, we are required to contact customers that place orders to be shipped to California. Customer's will be contacted by telephone with our automated telephone service to confirm your purchase. These calls will occur after 5pm PST.
State Regulations: Some states have specific laws regarding the sale and shipments of our products. If you do not see your state in the drop down menu when placing your order, that means we have currently stopped shipping to your state pending review of your state's regulation.
We can not accept orders to be shipped into Utah per Utah Code §59-14-509.
We have a 45 day return policy.
You may not return consumable items. This includes, but is not limited to: liquid products, coils/pods, cartridges, and batteries. Any item deemed consumable is non refundable.
Please refer to our Refund Policy page for more detailed information.
Advanced User Item. Use at Your Own Risk!
Please Note: Batteries must be matched in brand, model and battery state at all times. Discharge and recharge batteries within the same grouping of two. Failure to do so may result in injury. Never use damaged or improperly wrapped batteries with this device.
Warning: Never use a short or flat 510 connection on any hybrid or hybrid style device. If unsure whether this pertains to your particular set-up, DO NOT assemble and use. Always use proper precautions and handling.
CBD DISCLAIMER: VaporDNA™ shall not be held liable for the medical claims made by customer testimonials. The statements made regarding these products have not been evaluated by the Food and Drug Administration. The efficacy of these products and the testimonials made have not been confirmed by FDA- approved research. These products are not intended to diagnose, treat, cure or prevent any disease. All information presented here is not meant as a substitute for or alternative to information from health care practitioners. Please consult your healthcare professional about potential interactions or other possible complications before using any product. The Federal Food, Drug, and Cosmetic Act requires this notice.
All CBD and Hemp products are consumables and no returns will be accepted. Shipping to addresses in the U.S.A. only.
NOTE: Descriptions, specifications, and claims are based on manufacturer information. Information listed and provided are to be used at the sole discretion of the consumer and are not representative of analysis, testing, and verification by VaporDNA and any and all of VaporDNA's parent and subsidiary companies. There is an inherent risk with the use of any and all rechargeable batteries in any circumstance. VaporDNA® and any and all of VaporDNA®'s parent and subsidiary companies are not responsible for damage if there is any modification of the batteries/chargers in any form or shape (including pack making). VaporDNA® and any and all of VaporDNA®'s parent and subsidiary companies are not responsible for any damage caused by the misuse and/or mishandling of Li-ion (Lithium-ion), LiPo (Lithium-ion Polymer) and any rechargeable batteries and chargers.

Use special caution when working with Li-ion (Lithium-ion), LiPo (Lithium-ion Polymer) and any rechargeable cells, as they are very sensitive to charging characteristics and may explode or burn if mishandled. Make sure the user has enough knowledge of Li-Ion (Lithium-ion), LiPo (Lithium-ion Polymer) and any rechargeable cells in charging, discharging, assembly and storage before use. Always charge in/on a fire-proof surface. Never leave charging batteries unattended. Do not use any rechargeable battery as well as any battery charger if any visible damage is present, as well as if the cell or charger has been stressed through mishandling, accidental or otherwise, even if damage may not be visible. Always store and transport rechargeable cells in a safe, non-conductive container in a controlled environment. Dispose of all battery cells and chargers in accordance to local laws and mandates.

VaporDNA™ will not be held responsible or liable for any injury, damage, or defect, permanent or temporary that may be caused by the improper use of a Li-ion (Lithium-ion), LiPo (Lithium-ion Polymer) and any rechargeable battery/batteries. Please have a basic understanding of the batteries you are using and how to care for them properly.

All pictures are based on practicality, copyright reserved.
Customer Reviews
Filter Reviews:
tank
flavor
experience
best
juice
bottles
Some
mods
Smok
Falcon
Cant wait
Ordered and ready to try thos tanl
08/01/2019
Mark S.
United States
Geekvape Alpha sub ohm tank
Great tank I'm pleased
Beautiful tank, great flavor and cloud. Cool lasted 3-4 wka
Great experience until it came time to change the coil. Got about 4 to 5 mods that I've got in my daily rotation and the Alpha was right up there with my Falcon and Freemax. These mesh coils are jus the BEST!! UNTIL.....the mesh mellow. 02 double replacment coil. The QC is definitely falling some. Not as bad as the Smok tanks but it saddens me to pick up my mod an it be covered in my fav. Ejuice 1. Still recommendthe tank, it's sweet an as long as it isn't leaking it's great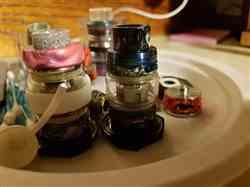 We are sorry for to hear about this experience, please know that you can always reach out to us at team@vapordna.com with any questions or concerns. Sincerely, Daniel VaporDNA Customer Service Team
03/20/2019
Joseph G.
United States
11/25/2018
Ivan O.
CAMARILLO, CA United States
I love it, so far so good.
It is definitely a nice upgrade, my original tank included with the Vaporesso Tarot feels now very basic that I use it no more. Nice clouds and great taste