FreeMax Maxus 200W Starter Kit
Freemax introduces the Maxus 200W Starter Kit, a powerful device featuring a single or dual 18650 battery configuration, 200W max output, 15ms firing speed, full temp control suite and a Maxus Pro Sub-Ohm Tank. This device is perfect for users looking to max out their most power hungry tanks!
The FreeMax Maxus 200W device has an elegant zinc alloy chassis which provides a great in hand feel. Contributing to the aesthetics and tactility are various inlays which provide both a colorful look as well as a tactile feel in hand. On the front of the device, users will notice a simple, no frills, easy to read with a quick glance OLED display. This display features a dual battery readout, wattage level, ohm readout, puff counter and voltage reading. Located above the display is a large tactile firing button and below the screen are two adjustment buttons. Powering the device are two 18650 batteries (Sold Separately) which enable the device to hit 200W. If users prefer less power, this device also supports a single 18650 configuration. On one side of the device is a magnetic panel that can be removed to inset the battery/batteries. Moving forward to the menu system, this device will allow for a wattage mode, VPC mode, bypass mode, TC mode and TCR mode. The temperature control suite allows for titanium, nickel, and stainless steel to be used and monitored with ease. Included in the packaging is a USB Type-C cable for quick charging and updates.
Included in the packaging is the Maxus Pro Sub-Ohm Tank featuring a 25mm diameter, push to open top fill system, that uses a variety of Freemax Maxus Pro Replacement coil heads, a complete line up of different colors and materials that match the Maxus 200W perfectly. The Maxus Pro will accommodate up to 5ml of e-liquid E-Liquidwith the pre-installed tank and will come with a spare for those "just incase moments. The Maxus Pro can easily be filled by pushing the top of the tank and sliding it to the side exposing the large single fill port. This tank is no slouch in the coil section either, utilizing the Freemax Maxus Pro Mesh Coil Family and comes with a pre-installed M2 904L 0.2 ohm double mesh coil head that's rated from 60 to 90W and included in the package is a spare M1 904L 0.15 ohm kanthal single mesh coil, rated at 40 to 70W. With the application of mesh coils, coil life and flavor increase will be noticeably greater compared to that of regular coils. As the airflow enters the Maxus Pro via dual adjustable bottom air slots that measure in at 13mm by 3mm and can be fully closed, a large channel provides maximum airflow. A wide bore 810 drip tip allows the user to intake adequate amounts of vapor with ample flavor.
Check out Matt From SMM's Video Review HERE!
Unboxed with VaporDNA---
Product Specifications
FreeMax Maxus 200W Starter Kit


200W Output - Dual Battery
80W Output - Single Battery
Resistance Range - 0.1 to 3.0 Ohm
15ms Firing Speed
FM Chip-Maxus 1.0 Chipset
SmartLoad Technology

Does Not Matter Which Way You Place The Battery

Temperature Control

100 to 315 Degrees Celsius
200 to 600 Degrees Fahrenheit
Titanium, Stainless Steel, Nickel Compatibility

Other Output Modes

Power Mode
VPC Mode
Bypass Mode
TC Mode
TCR Mode

OLED Display Screen

Wattage Output
Puff Counter
Battery Life
Ohm Level
Voltage

18650 Battery Compatible

Single or Dual Configurations
Sold Separately

USB Type-C Connectivity

FreeMax Maxus Pro Sub-Ohm Tank

27mm Diameter Base
Push to Open Top Fill System

5ml Max Capacity Large Bubble Glass Tank Section

Pre-Installed
Replacement Included

Freemax Maxus Pro Mesh Coil Series 

CoilTech 4.0 Technology
M1 Mesh Coil 

0.15 ohm Coil
Single Mesh
40 to 70W

M2 Mesh Coil 

0.2 ohm Coil
Double Mesh
60 to 90W

Dual Adjustable Bottom Airflow Control

11mm by 3.5mm Each Airslot

810 Wide Bore Drip Tip
Gold Plated 510 Connection
Stainless Steel Construction
25mm by 59.85
Product Includes
One Maxus 200W Device
One Maxus Pro Tank
One M2 Mesh Coil 0.2ohm (Pre-Installed)
One M1 Mesh Coil 0.15ohm
One Extra 5ml Bubble Glass
One USB Type-C Cable
One Pack of Spare O-Rings
One User Manual
Check out the Freemax Maxus 200W Starter Kit infographic to help you better understand how it works!
Customer Reviews
Write a Review
Ask a Question
Filter Reviews:
Love VaporDNA
device
flavor
09/15/2021
Joseph S.

United States
Good piece of kit
So I already had the tank and most vapers have it as well, but the mod itself is actually pretty good. I need to say this for other companies: THE TANK HAVING THE FEATURE OF LIFTING THE TOP CAP AND THEN PUSH TO FILL IS GENUIS! That has already saved me from frustration of push to fills opening up in my pocket!! The tank is great overall and flavor is A - level(which is above average in my opinion). Back to the mod, if you were wondering if this mod is durable…,well it is I've dropped it several times and it takes the punishment and keeps on ticking. Love the battery feature of running them in any format you want plus plus side up or any configuration is possible. The mod I give it a A - as well due to the fact it has a little play in the battery door due to them being magnetic.
08/24/2021
Melanie P.

United States
Great device
Love this device, vapes great flavor is awesome. Love VaporDNA fast shipping etc…. ❤️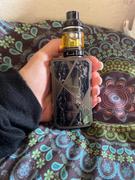 CUSTOMERS WHO PURCHASED THIS ALSO BOUGHT